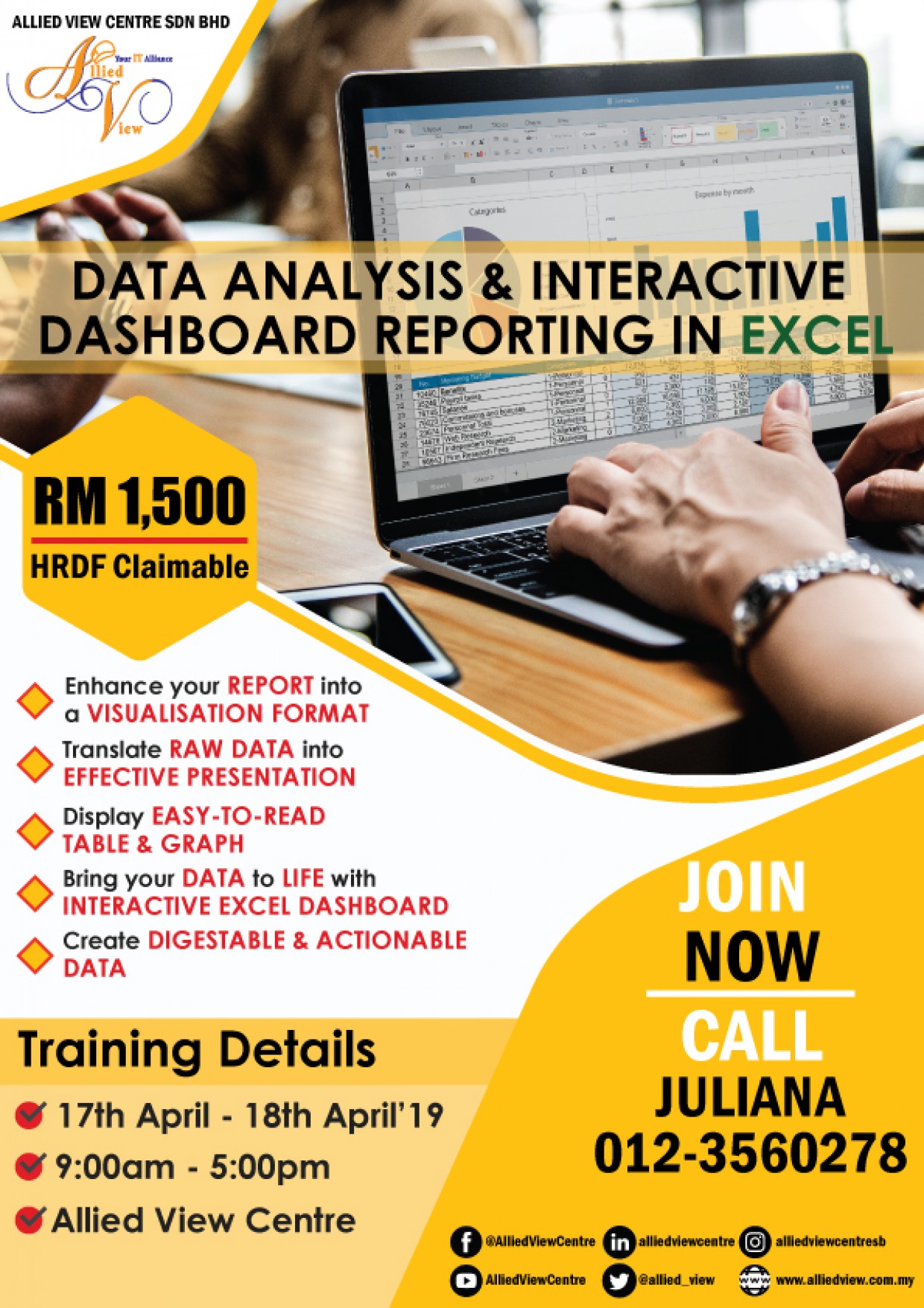 Data Analysis and Interactive Dashboard Reporting in Excel
"Discover how to tame your data and make it work for you"
In past spreadsheets where used to only perform some basic mathematical operations like adding, subtracting and dividing etc. However with the gigantic amount of information accessible to us every day, spreadsheets today can be incredibly different and far more advanced and the most eminent spreadsheet without a doubt is Microsoft Excel. Excel allows professionals to manipulate vast amounts of data, automate tasks and present complex information in a comprehensive manner. Learn how to synthesize information into a logical framework, summarize it into a meaningful format, and then display the summary into easy-to-read tables and graphs.
EXCEL TRAINING
DURATION : 2 Day(s)
EXCEL TRAINING FEE: Rm1500 / pax (HRDF Claimable)
DATE : 25th & 26th June
LEARNING OBJECTIVE
There is a tremendous amount of data generated every day in the current age of information technology and most of us often struggle to understand this vast information. Excel is designed to do much more than using it as a personal whiteboard or to perform simple calculations. Participants following the basic fundamental rules will be able to extract, change, modify, report, add and manipulate data in different ways. This course is very hands-on and practical. Each participant will be expected to create their own reports, charts and models utilizing the tools and techniques covered during the course. By the end of the day, participants will:
understand the principles of Data analysis and Dashboards
learn to synthesize and summarize information into logical framework
consider when to use a chart or a table
know how to use visual effects to improve their reports and presentations
explore how to summarize,present and communicate data clearly and concisely
learn the principles of good dashboard design and presenting data graphically
discover the tools to analyze data & build reports using your existing Excel tools and skills (and perhaps a few you didn't know you had!)
WHO SHOULD ATTEND THIS COURSE
Managers and other professionals who are constantly operating on the data to make it more presentable and exhaustive
Students with intermediate skills are likely to enhance their knowledge of excel tools and functions and assimilate these into complex dashboards and reports
PREREQUISITES
Those who would have a minimum insight about the Excel
Those who possess adequate skills are believed to benefit most from it
Those who have daily access to Excel and are comfortable with using its tools and functions
AT MINIMUM, IT IS ASSUMED THAT PARTICIPANTS KNOW HOW TO:
navigate confidently in Excel
use absolute cell reference(e.g=$A$1)
create and use advanced Excel tools and functions on regular basis
EXCEL TRAINING : COURSE OUTLINE